"My Fair Lily is a bona fide page-turner, a delightful Regency historical romance that will leave you clamoring for more from this exciting debut author. . . . Gruffly gallant Ewan Cameron, Laird Carnach, and Lily Farthingale, the pretty young English bluestocking he struggles to resist, are perfect romantic foils. I didn't want My Fair Lily to end!"

~ Patricia Ryan, USA Today Bestselling Author of Medieval and Contemporary Romance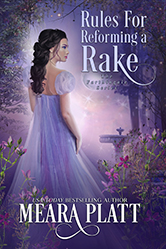 Rules for Reforming a Rake
Daisy Farthingale protected her sister by taking blame for a scandalous incident that occurred during her sister's debut season and now embarks upon her own entrance into society with a slight tarnish to her reputation. No one trusts her judgment when it comes to men, but Daisy is determined to redeem herself in the eyes of her beloved family by marrying the most honorable man she can find... unfortunately, she finds herself falling in love with London's most notorious rakehell, Lord Gabriel Dayne, a disreputable wastrel who may be spying for the French! What's a girl to do? Fortunately, Daisy has gotten her hands on Lady Forsythia Haversham's Rules for Reforming a Rake.
Gabriel Dayne, younger son of the Earl of Trent, has spent the war years cultivating his image as a knave and drunken rakehell to hide his true occupation as a spy against Napoleon's forces. His missions on the Continent have taken a harrowing physical toll as well as an emotional one. Sent home to recover from gunshot wounds acquired in a skirmish (though most of London Society believes he was shot by a jealous husband), he's determined to enjoy the wastrel reputation he's taken great pains to develop, for he soon expects to be recalled to battle. But the dangers he encountered in Napoleon's war pale in comparison to the danger he faces from Daisy Farthingale, the beautiful slip of a girl who creates havoc with his heart from the moment he sets eyes upon her.

What reviewers are saying...
"Rules for Reforming a Rake is funny, charming and a beautiful love story."

"Humorous, loving and awesome. A great read and looking forward to more from Meara."

"I just loved this book. It had romance, intrigue, humor, and history."
Purchase Rules for Reforming a Rake:
Purchase Rules for Reforming a Rake Audiobook: