"Meara Platt has created an out-of-order sort of series revolving around the Farthingale daughters: Lily, Dillie, Daisy, Rose, and our heroine, Laurel. Set in the Mayfair District of London in the early 1800s, this historical series follows the lively sisters who refuse to be bound to husbands who don't love them. This latest installment has the elements that fans have come to cherish:passion, love, a bit of joviality, and a lot of steamy kisses! A return trip to visit the Farthingale clan is always a welcome treat full of interesting surprises."
-- Starred review from Library Journal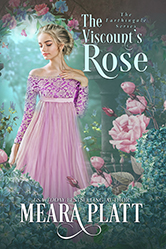 The Viscount's Rose
Abducting your best friend's brother is never a good idea! Unfortunately, Rose Farthingale has no choice.
She is indebted to Julian Emory, the handsome viscount who saved her life, and now his sister is desperate to save him from the clutches of the scheming countess he is about to marry. How can she disappoint her best friend? Farthingales are no strangers to mischief, but Rose never expects to be abducted along with Julian or to fall in love with him over the course of their captivity. Will he ever forgive her once he discovers she is behind this scheme?
Julian Emory, Viscount Chatham, is a secret agent of the Crown on an important mission to destroy the spy ring Napoleon has established in London. The woman he's pretending to court is one of Napoleon's most important spies, and he is purposely encouraging their courtship and marriage rumors in the hope she will make a slip. But his meddlesome family has just ruined his plans. By forcing him into close quarters with Rose Farthingale, they've put both his mission and this delectable innocent in danger. Can he keep himself from falling in love with Rose long enough to bring down Napoleon's spy organization?
My Big Fat Greek Wedding meets Pride and Prejudice in this laugh-out-loud, romantic Regency romp. This is a stand alone book. The Farthingale series can be read front to back or back to front or in any which order. Order your copy today!
"[The Viscount's Rose] brings readers back to historic Mayfair London, where a return trip to the townhouse on Chipping Way is always interesting. The Farthingale sisters have a talent for finding men and falling in love with a certain fanfare, and this latest installment is no exception, with explosions, abductions, and a heavy dose of heat and passion. Farthingale fans rejoice." ~Library Journal, Starred Review
"Love this series! The Farthingale sisters are delightfully outrageous and utterly charming. I've been waiting eagerly for Rose and Julian's story and this book does not disappoint. With laugh-out-loud madcap mischief from start to finish, Platt's bluestocking heroines are the kind of girls we all would like to name among our friends. The hero, Julian is brawny, tender, protective, and oh-so-sexy. It takes a special kind of man to appreciate the unusual Farthingale sisters, and Platt knocked it out of the park yet again. Like the other books in this series, once I started reading, I couldn't put it down until I'd reached the Happily Ever After. I can't wait to read this one again!" ★★★★★ ~ Amazon Reviewer
"The Viscount's Rose is funny, passionate and full of intrigue. Another great story from Meara Platt!" ★★★★★ ~Amazon Reviewer
Enjoy this interview with author Meara Platt!

Purchase The Viscount's Rose:
Purchase The Viscount's Rose Audiobook: