"My Fair Lily is a bona fide page-turner, a delightful Regency historical romance that will leave you clamoring for more from this exciting debut author. . . . Gruffly gallant Ewan Cameron, Laird Carnach, and Lily Farthingale, the pretty young English bluestocking he struggles to resist, are perfect romantic foils. I didn't want My Fair Lily to end!"

~ Patricia Ryan, USA Today Bestselling Author of Medieval and Contemporary Romance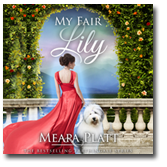 Available Now!
The audiobook version of My Fair Lily is available now. Listen to a free preview by clicking the play button in the audio player below.
Purchase My Fair Lily Audiobook: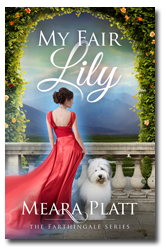 My Fair Lily
My Fair Lily by author Meara Platt is the story of what happens in Regency England when a loveable Scottish sheepdog tries his hand at matchmaking. Only problem is that his owner, Ewan Cameron, a proud and stubborn Scot, refuses to admit that the beautiful English bluestocking, Lily Farthingale, is obviously meant for him.
London is never the same after the boisterous Farthingales move into their townhouse on Chipping Way, one of the loveliest streets in fashionable Mayfair. With five beautiful daughters in residence, the street soon becomes known as a deathtrap for bachelors.
Ewan Cameron, estranged grandson of the Duke of Lotheil, is in London because of a deathbed promise made to his father and has no intention of staying beyond his three month obligation. Nothing can tempt him to remain, not even Lily, the beautiful bluestocking determined not only to restore relations between him and his grandfather, but to turn Ewan into a proper gentleman. Ewan, proud of his Scottish heritage, refuses to admit that Lily, a blue-eyed, English girl, has claimed his heart. It doesn't matter that his big lump of a sheepdog is madly in love with her. Nor is it significant that Ewan can always tell Lily apart from her identical twin sister. Always.
Lily Farthingale, the scholarly twin, dreams of becoming the first female member of the Royal Society. She grabs at the chance when the elderly Duke of Lotheil approaches her with a proposition - he'll admit her into the Royal Society, if she helps him to establish a relation with his estranged grandson, Ewan Cameron, a very rough-around-the-edges Scotsman who hates everything English. Between shootings, explosions, and Lily's abduction, Lily and Ewan manage to fall in love in this Pygmalion-inspired story.

What reviewers are saying...
"My Fair Lily is a Regency romance fraught with sweet romance and amusing high jinx."

"A captivating historical romance that combines passion, humor and suspense."

"A great read!! The main characters are very fascinating and so well developed in this comical historical romance. The story has a great quick pace with a few unexpected twists."