"Meara Platt has created an out-of-order sort of series revolving around the Farthingale daughters: Lily, Dillie, Daisy, Rose, and our heroine, Laurel. Set in the Mayfair District of London in the early 1800s, this historical series follows the lively sisters who refuse to be bound to husbands who don't love them. This latest installment has the elements that fans have come to cherish:passion, love, a bit of joviality, and a lot of steamy kisses! A return trip to visit the Farthingale clan is always a welcome treat full of interesting surprises."
-- Starred review from Library Journal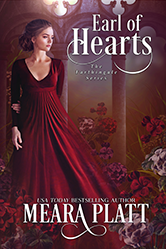 Earl of Hearts
Love comes to those who need it most.
What will happen when an earl determined never to love meets the only woman who can tear down his defenses?
Lady Nicola Emory adored her brother's best friend, John Randall, Earl of Bainbridge, from the moment she met him. But the handsome earl, a mysterious and tormented agent of the Crown, never gave her any notice until the eve of her betrothal to another man. How was she to know that her intended betrothed was plotting to overthrow the Crown? When Nicola stumbles upon the proof of his treason, she's suddenly on the run for her life and John is the only one who can protect her. But in saving her life, will he put his heart at risk?
John Randall long ago decided never to allow anyone into his heart. Protecting the royal family and defeating England's enemies are all he needs in his life. That suddenly changes when he's forced to go on the run with Nicola Emory, the one girl with the power to steal his heart. With every hour they spend together, he finds his solid wall of protection collapsing. He's faced death many times before and doesn't fear it. But admitting his love for Nicola will force him to confront the demons haunting him since childhood. Will digging up those dangerous memories free his heart? Or close it to love forever?

Order Earl of Hearts:
Amazon | Barnes & Noble | iBooks | Kobo | BAM
Purchase Earl of Hearts Audiobook: