Book 1 - Garden of Shadows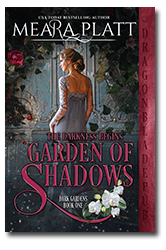 Garden of Shadows (prequel to Garden of Light) — Danger lurks for Julia Marsden, the daughter of the late vicar of St. Lodore's Church in the quiet village of Borrowdale.

Julia doesn't believe in faeries or magic or dreams coming true, but odd things have been happening at the vicarage lately that cannot be explained. Her orphaned cousin Charlie, who has been crippled by an illness, believes in mythical creatures and claims that faeries now inhabit the vicarage's bluebell garden. The boy also claims the faerie king, Cadeyrn, has promised to make him a prince in his kingdom and teach him to walk again if Charlie will cross into the Fae realm.

As the faerie king's influence on the boy grows stronger, another threat emerges. The boy's uncle, Douglas Hawke, the Earl of Eastbourne, has come to claim Charlie and wrench him from Julia's guardianship. Julia is determined to fight both the faerie king and the earl, but as she and the boy begin to fall under the spell of King Cadeyrn, Julia realizes that only her love for Douglas can save them.

Is Douglas capable of loving her, even at the cost of his own life?