Book 2 - Garden of Light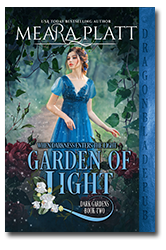 As battle looms between the Fae kingdoms and the powerful underworld demons known as Dragon Lords in England's quiet Lake District, the Fae king, Cadeyrn, returns to the vicarage of St. Lodore's where magical bluebell gardens serve as portals to the faerie world and the ominous red mountain known as Friar's Crag becomes the battleground for Fae, Dragon Lords and mortals. Cadeyrn is desperate to find the right mortal girl who will save the Fae, for she is destined to love him and die a fiery death for that love, as foretold in the ancient Draloch prophecy. All seems lost, for the only girl who can see him is Melody Hargreaves, a very unwarrior-like young woman who has never fought dragons. How can she possibly be The One?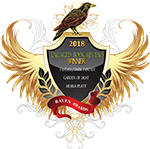 Melody is being courted by a wealthy lord who seems to adore her and is about to propose marriage, but she feels the powerful magic of her surroundings and is drawn to the world of the Fae and its handsome king. As Bloodaxe, one of the evil Dragon Lords, advances with his demon army, Melody must decide between a safe, comfortable life with the wealthy lord or dying a fiery death at the hands of the Dragon Lords. Melodys heart belongs to Cadeyrn, and choosing wealth and comfort no longer seems the obvious choice. Cadeyrn has also fallen in love with Melody. How can he change the course of destiny and save her as well as his Fae subjects?