"My Fair Lily is a bona fide page-turner, a delightful Regency historical romance that will leave you clamoring for more from this exciting debut author. . . . Gruffly gallant Ewan Cameron, Laird Carnach, and Lily Farthingale, the pretty young English bluestocking he struggles to resist, are perfect romantic foils. I didn't want My Fair Lily to end!"

~ Patricia Ryan, USA Today Bestselling Author of Medieval and Contemporary Romance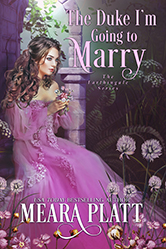 The Duke I'm Going to Marry
Daffodil Farthingale, known as Dillie to her friends and family, is horrified to learn the man she has just rescued from ruffians outside the Farthingale townhouse is none other than Ian Markham, the notorious Duke of Edgeware. If the Chipping Way bachelor curse holds true, she's doomed to marry the wretched rakehell. Dillie wants a man who will love her and be faithful in the marriage. The duke will never do, for he harbors secret torments and has sworn he will never fall in love or marry. When scandal breaks--after all, he does spend a week recovering in her bed--Dillie leaves London, little knowing that the handsome duke has just left town as well. With the Farthingale family and his assailants on their trail, Ian and Dillie suddenly find themselves trapped in the same charming inn during a torrential rainstorm. Can Ian overcome his haunted past, and can Dillie ever overcome her mistrust of him... to wind up falling in love?

What reviewers are saying...
"Lots of humor, romance and suspense!"

"Sweet and romantic story! Captivating since page one! This story had the right mix of everything, romance, intrigue, suspense, and passion. The story was fast paced, funny and entertaining."

"Platt weaves together a highly entertaining tale of love that pulls you in until you are laughing, crying, and cursing along with the whole Farthingale clan!"
Purchase The Duke I'm Going to Marry:
Purchase The Duke I'm Going to Marry Audiobook: